Secrecy in Zurich
Zurich is cool. Today the main station was under the sign of the film. It looks like a commercial. But that's beside the point when Roger Federer and Trevor Noah appear on the set, we think. Hairspray, brushes and dabs are used to work on the faces and hairstyles of the two main actors. It's super cold, but the crew has decided it's warm, so all in the film have to take off their jackets. Of course, has to be shot several times. It rains and gets colder and colder. To make the atmosphere friendlier, everything is illuminated with a lamp. Nevertheless – it is bitterly cold. The two have been shooting for several hours and must persevere. We can now go home and enjoy a hot tea.
Traveling by train
The Golden Pass Express Line gets a new train. Interesting, it doesn't go via Zurich. Unfortunately we missed the shots of the train. Roger and Trevor are in a hurry, trying to catch the train. I don't think the Lenzburg Aarau connection will be of any importance, because they are filming on that track. Probably the film will be cut together. I am already curious how the result will be. It motivates to test the Golden Pass in spring. We are looking forward to it.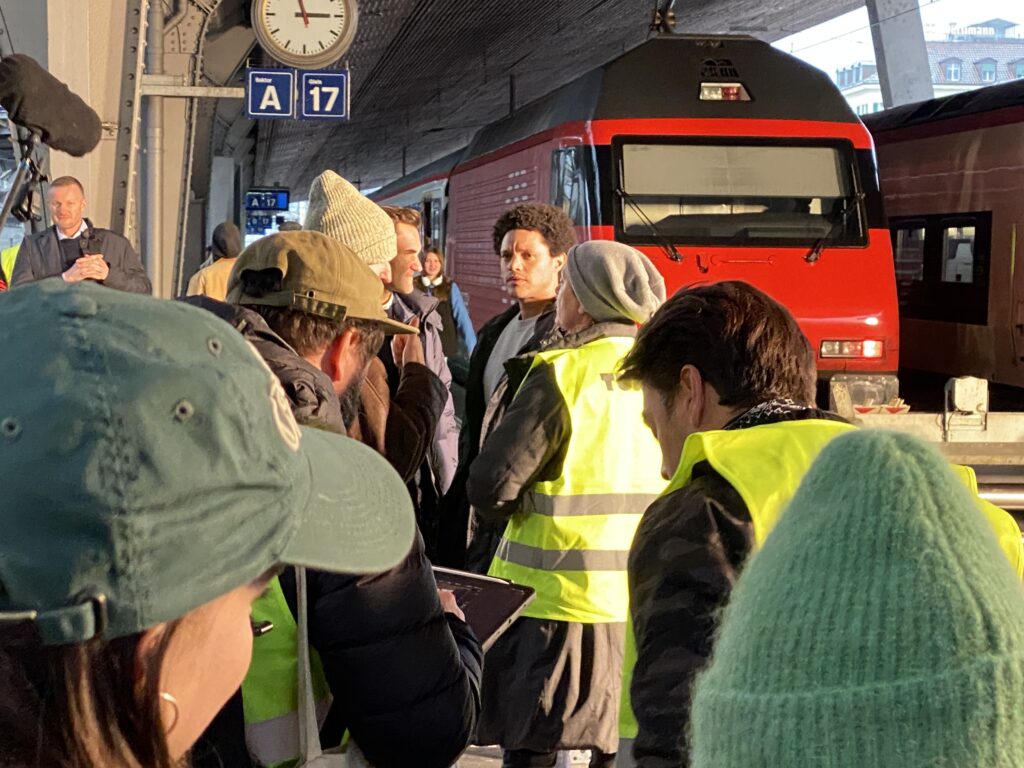 OllO World Website
Our OllO World website is ready. You can search the colorful pins via desktop/notebook or Android phones as well as iPad. Who is looking for inspiration for trips or vacations? With keywords such as bathing establishments, hiking, countries (Italy, France, England, USA etc.) can be searched specifically. Click here to go to the OllO World website.
OllO World iPhone App
We also have an iPhone App. If you want to record your own pins and document your vacations, the iPhone App is the right choice. You can also inspire other travelers with your own entries. Who has not yet downloaded the iPhone App? Click here to go to the App Store and download the OllO World App.