Hiking from the canton Schwyz to the canton Zug
Panorama trail – Einsiedeln to the Gottschalkenberg. Inspired by the 26th Summits hiking competition, we decided to do the panoramic hike from Einsiedeln to Gottschalkenberg. The hike takes about 4-4.5 hours. We take it leisurely and also allow ourselves some photo stops.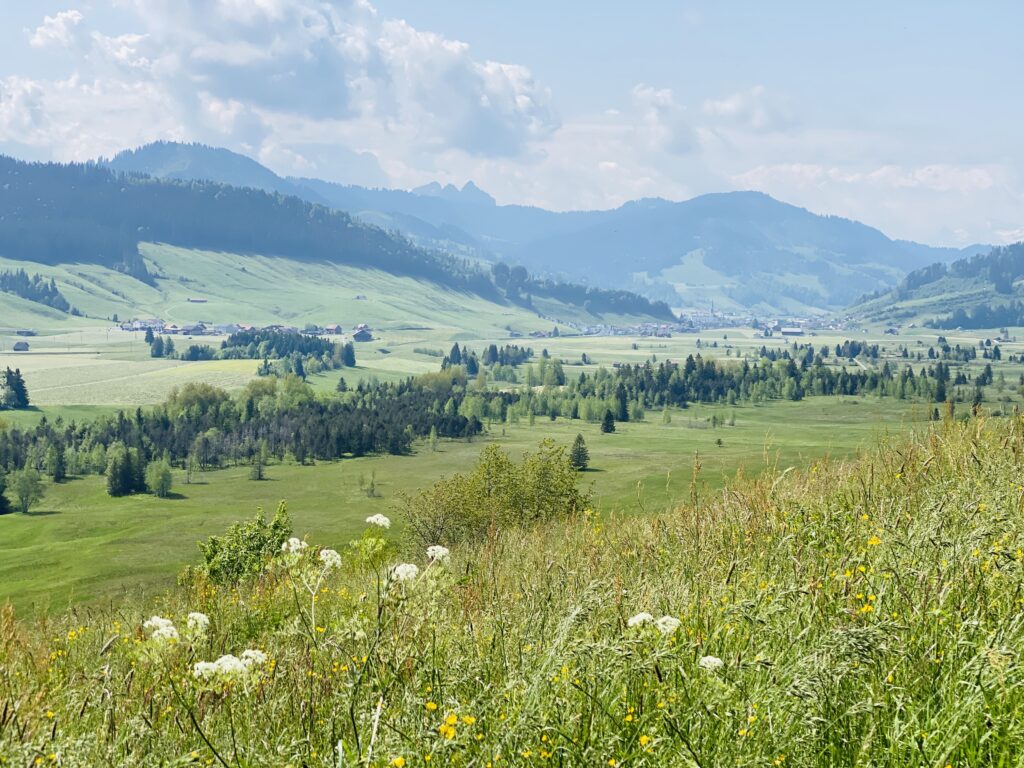 Panorama trail – Einsiedeln to the Gottschalkenberg, Chatzehstrickpass
From far away we see the huge ski jumping facility, which reminds us of our two ski jumpers Andreas Küttel and Simon Ammann. The first part of the hike leads across meadows where cows graze. The path through the pasture is steep and uneven. Again and again cows jump over the hiking trail. Although they look peaceful, it is extremely scary to me. Briskly we bring the hill behind us. Once we reach the top, a beautiful view of Einsiedeln stretches out before us. We even see the two monastery towers on the horizon.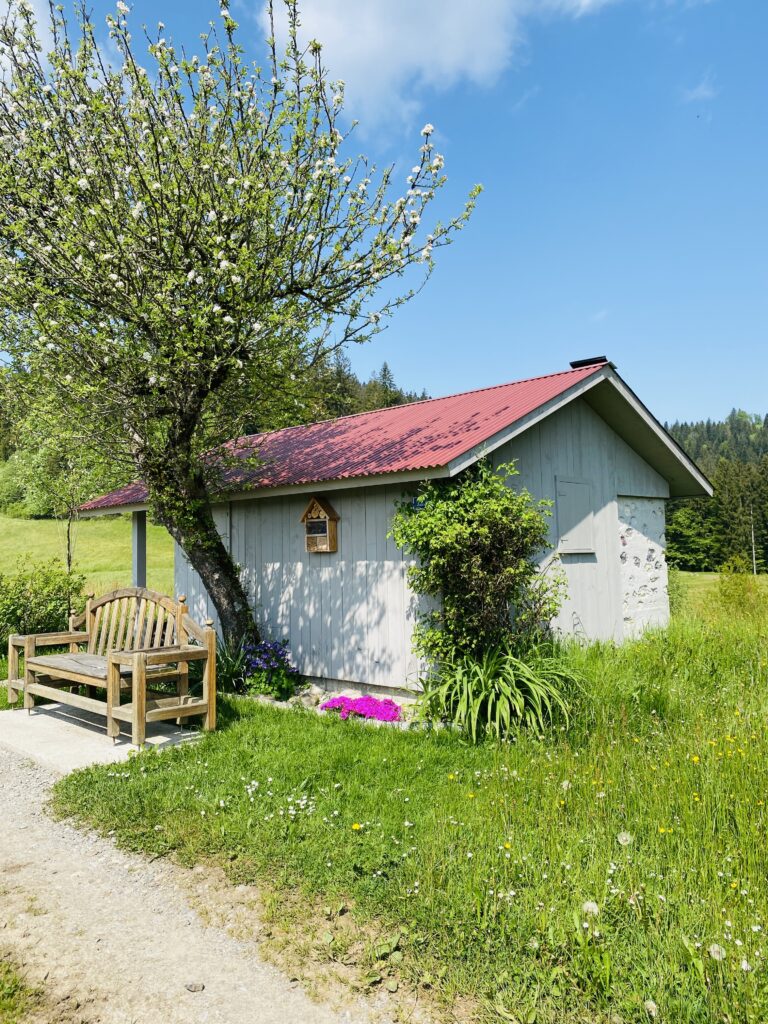 Rothenturm, rates, chapel St. Jost
We continue a bit downhill towards Rothenturm. We are greeted by beautiful flower meadows and the high moor with many summer flowers. Soon the steep ascent towards Raten begins. The path leads through the forest. It is pleasantly cool and the trees provide natural shade. Finally we reach the chapel of St. Jost. If you want, you can make a short stop here and have a drink in the restaurant, but beware, the restaurant here is open only on weekends. Our goal, however, is to have lunch on the Gottschalkenberg. Therefore, we now continue briskly. Fortunately, the path points downwards, so we can relax a bit again. Soon we reach the Raten. From there it is another 30 minutes to the Gottschalkenberg. The hiking trail is still a bit long. Arrived at the restaurant (note opening hours), we grab an airy table under the trees with a view into the valley. Wonderful. After lunch, we take a leisurely walk to the viewing platform. From up here we can even see Lake Zurich. So cool. Back we go again in the direction of Raten. From there a bus goes to Oberägeri and then we continue to Zug.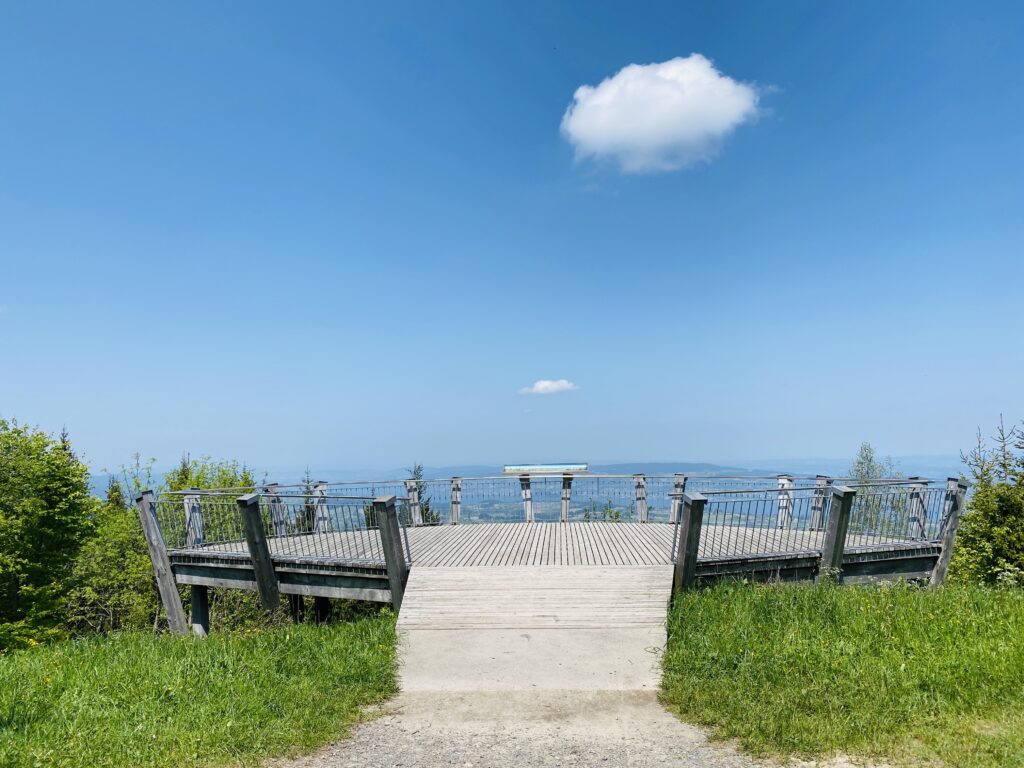 The OllO World team wishes you a nice hiking day.
OllO World website
Our OllO World website is ready. Now the colorful pins can be searched via desktop/notebook or Android phones as well as iPad. Who is looking for inspiration for trips or vacations? With keywords such as bathing establishments, hiking, countries (Italy, France, England, USA etc.) can be searched specifically. Click here to go to the OllO World website.
OllO World iPhone App
We also have an iPhone App. If you want to record your own pins and document your vacations, the iPhone App is the right choice. You can also inspire other travelers with your own entries. Who has not yet downloaded the iPhone App? Click here to go to the App Store and download the OllO World App.