Olga & Ollo use the OllO World travel companion
Make OllO World a travel companion. Olga & Ollo do use the OllO World App a as their travel companion, through their tours in Switzerland. The two groundhogs have already experienced many adventures and have stored them in the OllO World App.
The following trips belong to their favorite excursions
Mountain lakes, Olga and OllO's favorite bathing resorts
Adelboden-Berne round trip
Animal experiences and excursions with children
Gardens in Basel
Bike tour from Horn to Weinfelden
Swimming in a mountain lake
Bike tours around Lake of Pfäffikon or Greifensee
Gourmet hiking trail in Flims
Bike tour from Weinfelden to Bischofszell
I'm sure you'll find your favorite path.
Travel Diary, trips should not fade
OllO World travel app is also a diary. The year 2020 will go down in history. This year is a decisive and eventful challenge for the whole world, so 2020 will certainly be remembered also far into the future. Why not record your journeys in your travel diary?
Inspiration for Trips
Many excursions have already been recorded in the OllO World App. Most of the spots are located here in Switzerland. It shows once again, how versatile the country is. Even though we don't have a sea, there are countless lakes, also in the mountains, where you can swim. Instead of a sea, some lakes are partly surrounded by mountains, which hava a very special charm, right?
Advertising Pins
On all my travels I found the travel brochures and the hotels depicted in them boring again and again. Depending on the travel provider, some of the photos were very outdated. A future guest wants to see the whole picture. Rooms are important, but hopefully, during the holidays, one is more on the road and also enjoys the infrastructure of the hotel complex. This is why I find it almost more important than the room equipment. Of course, this should also be right.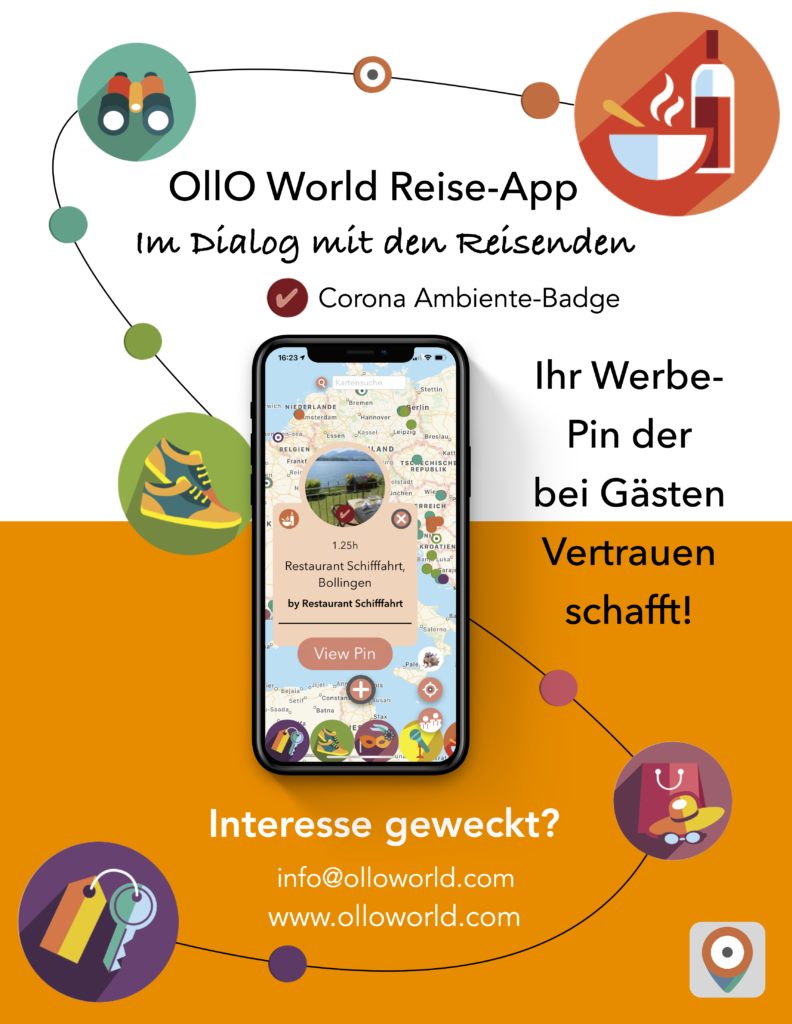 In the OllO World App, advertising providers find the possibility to present their hotel, restaurant or also their shop. The guests will now get an idea of their offers. By means of a direct link to the website of the providers, the reservations or orders can be made directly, so the interaction between advertisers and travelers is thus given.
Pins and Paths
Pins are destinations and multiple pins bundled together form a path. How pins and paths are created is explained with this link.
The summer holidays have already started. We are looking forward to many new pins and paths in the app.
Here you can get the OllO World App. Maybe you will be interested in that post about a journey to the Thurgau as well. The OllO World Team wishes you a nice summer holiday.